Field Guide to the Cinderella Stamps of Canada
2nd Edition
Published in May 2015.

Go to "Buy Books" for details on how to get your copy today.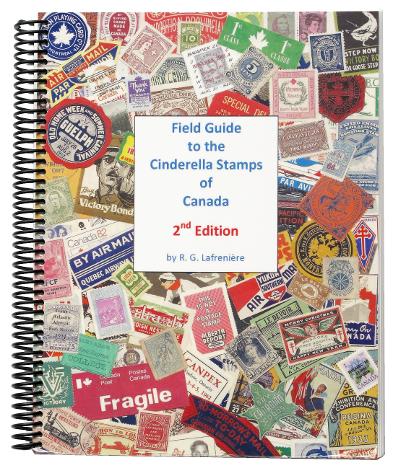 What is not covered in the Guide?
Postage stamps: see Scott or Unitrade catalogues
Revenue Stamps: see van Dam catalogue
Tobacco Stamps: see Brandom catalogue
Modern Christmas & Easter seals: see Green catalogues
What is covered?
Everything else! See the cover illustration for examples, or check out the Table of Contents or Index.
What is a Cinderella stamp?
The simple definition is that it is a stamp that is not a postage stamp. While postage stamps get all the attention of diehard philatelists and are intimately described in the Scott or Unitrade catalogues, Cinderellas are the neglected step-daughters of philately, not well known, under-appreciated, and well just ignored. And yet what gems can be found if we make the effort to search! This little Guide is a first attempt to describe in a systematic manner the more common or interesting Cinderella stamps of Canada. It is a useful resource full of interesting facts, profusely illustrated and researched, with indications of market values and scarcity. So whether you're a novice collector or seasoned dealer, this Guide will certainly enlighten and entertain you, and hopefully encourage you to enter the world of Cinderella stamp collecting.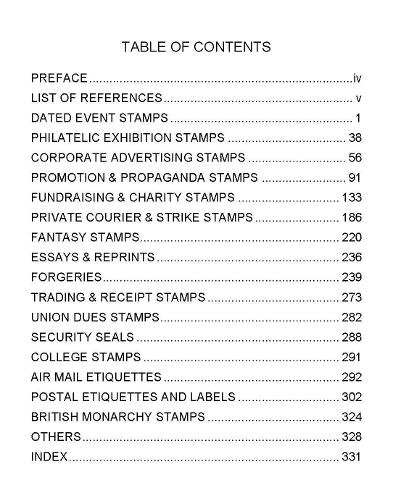 About the Book

The Field Guide describes a total of 1647 separate stamp issues, representing over 12,350 different stamps and labels. Each stamp is described textually, with information on perforation, gum, size, scarcity and market value. Catalogue numbers are assigned. Literature references pertaining to the stamps are also indicated when known. Finally, nearly all stamps are illustrated in color. A 14 page index allows readers to identify stamps based on dates, names or slogans. Each chapter is organized either alphabetically or chronologically. Format: 8.5 x 11 inches, spiral-bound, 344 pages.
About the Author

Ronald G. Lafrenière is a genetics researcher and consultant who has contributed to the fields of migraine, epilepsy and other neurological disorders. He has been collecting Canadian stamps since he was 10, and more recently became a fan of Canadian Cinderella stamps. Sensing a void in the philatelic literature for a centralized reference on these stamps, he has put together this Field Guide to help enthusiasts of Canadian Cinderella philately. He lives in Montreal, Canada.